On my latest pass through Europe, I spent a little time on the northern Mediterranean  coast  of  Italy and was able to get in a day trip to the gems known as Cinque Terre.  These are five small, ancient fishing villages with colourful houses perched  on the cliffs above the sea.
To get there, I took the super-scenic train ride along the coast from Genova (Genoa).  I checked out three of the five Cinque Terre villages: Monterosso, Corniglia, and Manarola.   Vernazza and Riomaggiorre will have to wait for another time.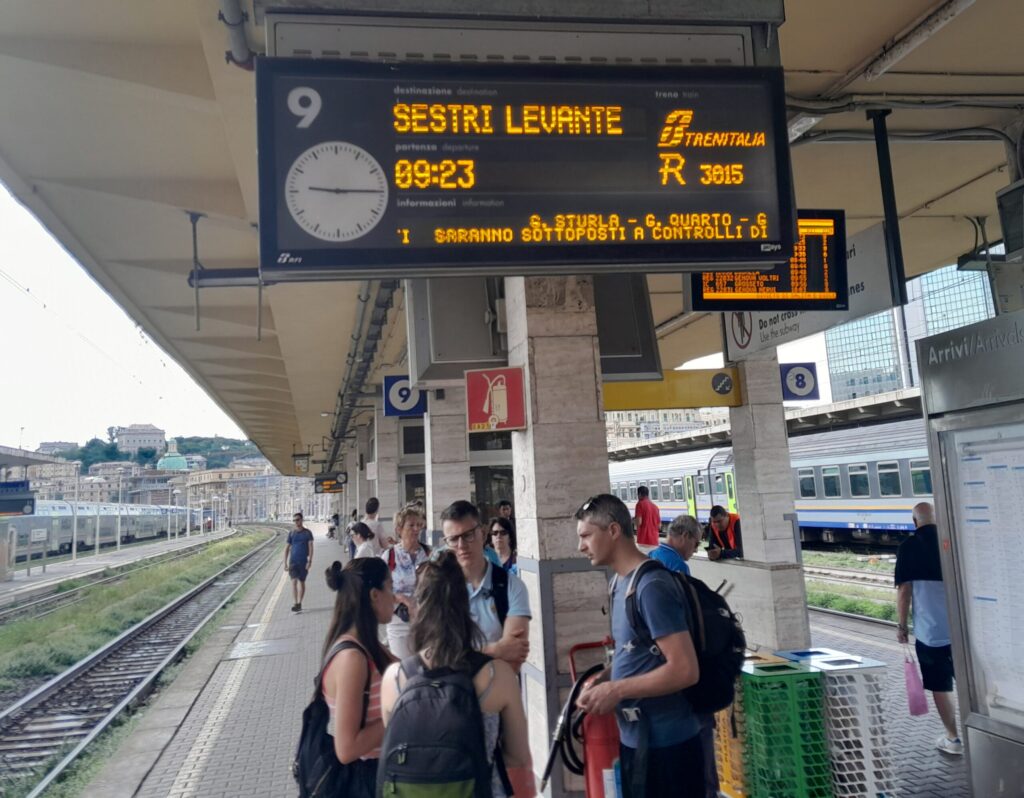 Monterosso
I arrived here around lunchtime.  The seaside has beaches, not the nicest I've seen, but they must be popular judging from the hundreds of umbrellas and chairs set up.  The waterfront didn't seem very busy but the town center was a bit of a madhouse.
After walking around the beach area,  I made my way down the coast towards the town center.  There, the narrow streets were really jammed with tourists.  It was early afternoon by now and it was time to dive into fresh  Mediterranean food.  I found a nice little restaurant, Il Piccolo Diavolo, and they had one wee table available for me outside.  I ordered the mixed grill of seafood and it was yummy, I just wish there was more. The local wine washed this down perfectly.
After lunch, it was off to my next village, Manarola,   I toyed with the idea of  walking between villages as there is a popular hiking trail connecting them all but on a day trip there wasn't time. Besides that, it was stinking hot out.  I had a day pass to go between  the villages (unlimited), I hopped onboard.
Manarola
Even though it was a short train ride,  only about 10 kms away, it was a bit of an act because the stations and the trains were jammed full of people.  This trend carried on in the town. especially at the seaside.  Believe me, revenge travel is real! I could certainly see the attraction in Manarola, the houses overlooking the sea are simply stunning.

I walked up the coastal pathway in the Corniglia direction, it was nice to get out of the crowds for a bit.  After taking in the lovely vista from up high. I  came back down and watched the cliff divers for a bit. There is a huge rock jutting out of the water in the middle of the harbour.  Some crazy kids put on a bit of show cliff diving  off of it.  It must be close to 10 meters high so it is quite a leap.
I wandered up what looked like the main street, away from the waterfront.   It surprised me that it got quieter as I got away from the seaside and into the shops and cafes.  It was kind 0f opposite of Monterosso. I guess all the villages are unique in their own way. It was time for a drink and I found a good, quiet spot up on the hill called Take-Out Pasta with a few seats outside, friendly service and good drinks.  Their pasta was alright too.
Corniglia
It was late afternoon so I only had a quick look at Corniglia. It is not as scenic as the Monterosso or Manarola. It is also quite a hike uphill to get to the town center from the train station, though there is a shuttle bus that runs between them.  Understandably, it was less crowded.
The food options here looked and smelled great. They also looked  more affordable than Monterosso was for me.  I would definitely choose to eat in Corniglia if I make it back to Cinque Terre.
Prices not so bad for a popular Italian tourist town in peak high season
WW1 war memorial
Conclusion
I had enjoyable day trip to Cinque Terre, five gems atop the Mediterranean coast.  I got a good look at three of the five villages, enough to get a feel for unique charm of each.  Monterosso has the long, sandy beach with the plethora of colourful umbrellas.  Manarola has the beautiful, colourful houses perched precariously above the sea, what a feat of ancient engineering it is.  Corniglia looks like a lovely laidback atmosphere to enjoy the local cuisine.
I don't recommend doing the trip the way I did as a day trip from Genova. The train ride is quite scenic but it is a bit too long to do roundtrip. For me it was okay as I had a super accommodation deal in Genova (you can read more about that here). I would instead recommend spending  a night in Cinque Terre to see more and catch sunrise/sunset.  I have a feeling Corniglia may have good rooms at a reasonable rate.  Another option would be to make a day trip from the nearby city of La Spezzia, which looks lovely in its own right.
You  can view a whole lot more photos in my online album here
Getting There and Around
I bought a return Trenitalia ticket from Genova Brignole to Sestri Levante for 15 Euro. The all day pass for Cinque Terre was an additional 18.20 Euro.  It was definitely a worthwhile trip.