Following our Champasak adventures, we met friends in Pakse  and headed on up to the Bolaven Plateau. We passed Paksong town on the way to our destination, Montra Flower garden. It  is a flower/fruit/vegetable farm that has several bungalows for tourists to stay. 
It was already dark out when we arrived and the  first thing I noticed is that it gets plenty chilly on the Bolaven Plateau. It is from 900 to 1400 meters above sea level which gives it year round coolness.  At night time you can see your breath, no problem at all. Luckily we had jackets with us.
We had dinner at the on-site restaurant and then checked in to our comfy bungalow.   Definitely no need to use air-con here, more like dive deep under the covers and try stay warm.
Next morning, one of the young staff showed us around the vast and varied gardens.  They grow a lot of flowers, some for sale, but most of it is to make beautiful displays for tourists.   We saw a large bus tour group roll up for viewing and photos while we were there.  Besides flowers, there are various  fruits and vegetables grown in the many gardens and greenhouses spread out across the property. It is a fertile region with a great climate.  Though it gets cool, they normally  never get a hard frost. 
After the garden tour, we had a little breakfast and checked out. Now it was coffee tour time.  As luck would have it, we had met a coffee farmer, Jack, at the guesthouse we stayed at in Champasak.  He said that if we were coming to the Bolaven Plateau, give him a call and he would be happy to show us around his farm and the area around Paksong.   Perfecto! We were happy to see Jack roll up in his truck. We hopped in and thus  began our Lao Bolaven coffee adventure.
Coffee was introduced to Laos over 100 years ago by the French during their colonial time in the region.  They experimented with crops in a few areas of the country but quickly found with its rich volcanic soil, elevation of 800-1400 meters and temperate year round climate, the Bolaven Plateau was ideal for coffee production. The rustic town of Paksong is  the heart of Bolaven coffee country.
Our first stop was a massive commercial coffee farm, Paksong Highland, that is right beside the  highway.  It is one of the biggest coffee farms in Laos and oddly enough it is owned by a large Thai beer company.  There was a shop and viewing deck of the seemingly endless rows of coffee trees.  Besides its size, I did not find anything remarkable about the operation.  I gave the coffee and beans for sale a  pass. I was sure there would be better coffee on the horizon.
Next, Jack brought us to his farm, Lao Agro Coffee.  Right away I could see I was going to like this farm a lot.  It is beautiful with  a mixture of native  and fruit trees among the mature coffee rows with plenty of shade throughout.  Right before the farms central coffee processing area , there is a makeshift village for the coffee harvesters to stay for the 3 to 4 month harvest season, which was just beginning.  The farm is large and the coffee cherries are all hand picked so it takes hundreds of workers to get it done.
We had a look around the large processing area and checked out  the coffee in various states to get it from cherry-like fruit  to the coffee beans we all know and love.
Jack's father joined us as we sat down to sample Lao Agro coffee. Papa gave  us  the background of the farm as Jack brewed for us with his portable espresso machine.  I must say the coffee tasted mighty fine. I think great Laos coffee is one of the worlds best kept secrets.  I wanted to buy a bunch of beans but sadly there was only one packet available as the new crop was not ready yet.
We all hopped in a vehicle and had a better look at the farm, cruising up and down the miles of coffee rows with papa at the wheel, giving his commentary. It looks like it is going to be a great harvest.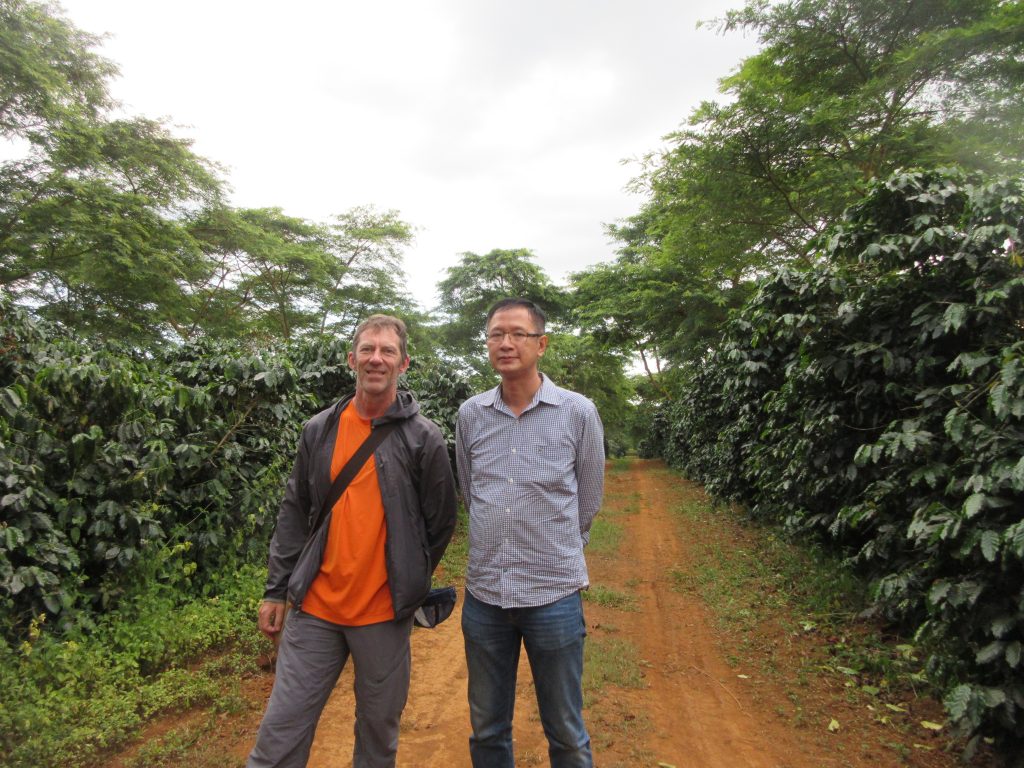 After a good look around the coffee fields, it was time to get to our accommodation for the night, Tad Fane Resort, which conveniently is just a stone's throw away from Lao Agro.  Jack dropped us off there and we couldn't thank him enough for his generosity. It was a great tour.
Of the many waterfalls of the Bolaven Plateau, Tad Fane is king with an impressive  height of 120 meters!  The resort has a commanding view of the waterfall, close enough you can hear the roar of the water.
We hung out at the resort that evening and next morning, soaking up the waterfall and jungle atmosphere.  There are ziplines with waterfall views available for thrill seekers but the safety record  in this part of the world is less than stellar so we passed on that. 
Our friend helped arrange a van for the afternoon, it was time for more coffee adventures! We started by heading back to  Paksong.  Our first stop there was Jhai coffee,  a surprisingly stylish cafe/roastery. It is a showcase for coffee produced by the Jhai Coffee Farmers Cooperative, a group of about 300 local coffee farming families. 
There is a good variety of local coffees on offer as well as many choices of  brewing method. The pour over coffee is available with choice of robusta, catimor, catura or typica variety. I got the typica and it was pretty smooth.   I also bought some fresh roasted beans.  If you are in Paksong, definitely stop for a coffee at Jhai.
Next stop was an informal coffee tour at Won coffee, just up the street from Jhai.  Fittingly enough the tour guide  is Mr. Koffie, a Dutchman who is deeply immersed in the Paksong coffee scene.  He had just finished his usual morning tour/roasting session and said we sure could have a tour.  The roasting coffee smell was wonderful as Koffie gave us loads of info about how the Paksong coffee is typically grown  and handled by the small farms of the area.  He kindly gave the first of many espressos to get us in a good touring mood.
It was then time to get out and explore coffee fields.  I was a bit taken aback  when Koffie said we were going to walk there.  I was sure we would wilt under the midday sun but I needn't have worried.  Even though we were on mainstreet Paksong, we hit  our first coffee plants about 100 meters from the shop and the bigger field was maybe another 100 meters. Like I said, Paksong is the heart of coffee country.
Koffie gave us a thorough  explanation of anything and everything to do with Paksong coffee.  We finished up at the shop for  more coffee drinking and buying beans.  The tour fee is very minimal  and the coffee is great.  Even if you don't have the time/interest for a tour, stop in and buy some of the yummy beans.
Now it was time for a late lunch and another waterfall, Tad Yuang.  The great thing about this waterfall is that there are stairs that take you right to the base of the waterfall so you can see it all up close.   This place is really geared for the tourist masses, we found good eats no problem.
We had covered a lot of ground, now our time with the van was almost up. Time to head back to Pakse where we would be spending the final night of our southern  Laos tour.  The driver dropped us at our hotel for the night, Seng Aroun.
Pakse is the second largest city in Laos and I was immediately impressed with how it has a well-organized business center, yet maintains plenty of Lao charm.  In the evening we had a stroll in the lovely streets and settled on Le Panorama for dinner,  the open-air, 7th floor rooftop restaurant of the Pakse Hotel.  It certainly lives up to its name, the nighttime views are gorgeous.  Well worth a visit for an evening drink/dinner.  
The next day was coffee shop tours via tuk tuk, including a visit to the flagship Dao Coffee shop.  Dao Coffee is one of the largest companies in Laos, selling a huge amount of better than average 3 in 1 coffee.   They own a large chunk of Pakse. As expected the cafe is  large and fancy. The espresso based drinks were good, noticeably better than the other Dao coffee shops in Vientiane and Luang Prabang.  
The best  coffee shop we found in Pakse was 124 Thaleung. This is a small Japanese run shop with excellent coffee, especially the pour over. There were also good treats to eat, the cashew bar was excellent. 
Our time in Pakse was great but went by too quickly.   Hope I can make it back there soon as there still seems to be plenty to see.
For more photos, my Montra Gardens album is here and the coffee/ waterfall tour is here.
Conclusion
If you like exploring waterfalls and having coffee adventures in a climate not too hot, not too cold, the Bolaven Plateau in Laos has got you covered.
Coffee highlights were tours at Lao Agro and Won Coffee. For cafes, Jhai Coffee (Paksong) and 124 Thaleung (Pakse) were winners. The Tad Fane waterfall is a must see.
For next trip I would prefer to stay in Pakse and make day trips out to the Paksong area for waterfall/coffee tours.  This way may be a little pricier when going by van but much more comfortable and would allow evenings to explore lovely Pakse itself . Also, the Seng Aroun Hotel room was more comfy and better value than the Bolaven options so that would help offset transport costs.  
Sleeping
Montra flower farm/resort-  they have a huge restaurant and about 16 bungalows. The bungalow was fine with attached toilet and separate lounge area . Cost was 400,000 kip/night.  It is a little ways beyond Paksong.
Tad Fane Resort- the resort is right next to the impressive Tad Fane Waterfall.  The bungalow was okay but could  have been cleaner and in better repair.  We could hear some critters having a party  in the ceiling most of the night.  Rate 271.000 kip on Agoda. Between Pakse and Paksong.
Seng Aroun Hotel-  Good location, room was clean, well equipped and very spacious. Got a room upgrade to room 428 which is their most requested room .By far the best accommodation this trip and great value at 245,000 kip/night. ph (31) 252111
When To Go
We went in November which gave us perfect weather. If you are really into coffee you may want to come a month or two later to catch the peak of harvest time.
Getting Around
Tour companies- Got the Seng Aroun Hotel in Pakse to arrange for a van pickup from Tad Fane Resort, close to Paksong. Proceeded to Paksong and took in one waterfall before heading to Seng Aroun. It was less than a full day, the price got negotiated down from the full day price of 3,500 baht to 2000 baht. This was van service from 11 AM until 5 PM. I would say it is wise to stay mainly in Pakse/Champasak As the accommodation on the Bolaven Plateau is not the greatest. Have your hotel arrange transport for you as there seems to be little in the way of public transport.
Motorcycles- popular with the backpackers is  renting a motorbike at Pakse and do a loop around the Bolaven  over a few days