September in Saskatchewan is a time of change. The crops are being harvested, trees are shifting to  autumn splendor,  and the morning air starts to get crisp.  One sign I watch for closely is the geese flocking together on their way south.  That is  my signal, time to get my butt back to the tropics.
Fortunately, by the time the geese were cleared for takeoff down south,  I had accumulated enough miles and points over the past few months to make a  booking of my own, with a whole lot of Business class!  Check it out below, I hope it inspires a trip of your own.
In This Blog
Regina Maple Leaf Lounge
Booking in Business class, Air Canada's Maple Leaf lounges were at my disposal before departure. I have been to quite a few airport lounges by now but I was really looking forward to this first time in Regina, which I have flown out of countless times before without the lounge privilege.
It took a while to get through airport security as it seemed each line had trainees  working. I made it through unmolested and made my way to the lounge off in the far corner which I thought was the Maple Leaf, only to find out  that wasn't it at all. Located close by though, there was an incognito door for the Maple Leaf.  I got scanned in and entered this wee, delightful lounge.  Talk about cozy, I counted the seats and there were exactly 20.
As you could imagine with a capacity of 20 they did not have a big selection of food.  There was a hearty soup as a hot option and a few wraps and dips to choose from in the fridge.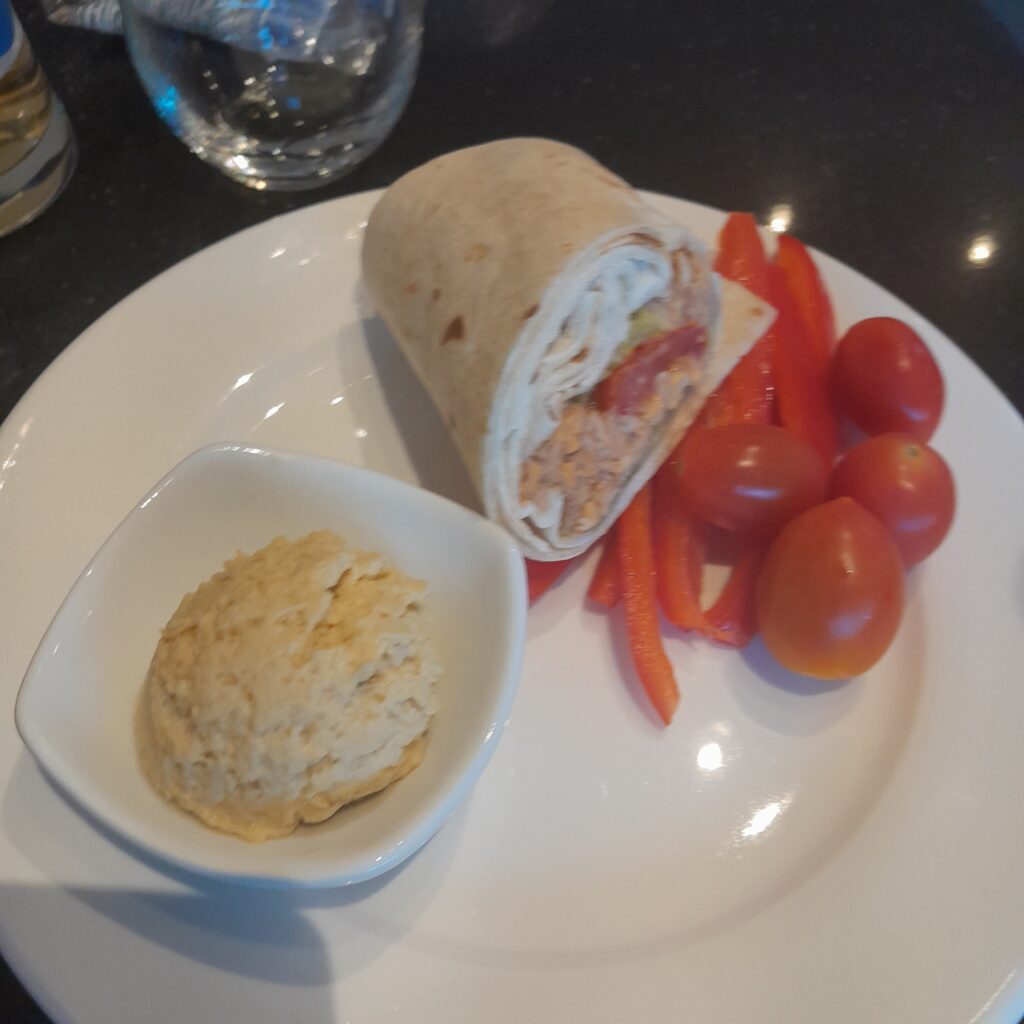 The liquor selection on the other hand was  stellar.  I could not believe the amount of top shelf liquor on offer here, self-serve!  I didn't want to be too greedy (or tipsy)  but did manage to get in a few tasters:  Grand Marnier, 12 year Scotch, Courvoisier cognac and a splash of Bailey's in my café latte. It was  good start to my  mission.
I was feeling pretty festive after all that.
Air Canada Rouge from Regina to Toronto – Business Class
The first step of the big journey was an Air Canada Rouge flight on an Airbus A319. Rouge is a lower level product than regular Air Canada,  The Business seats have a decent amount of leg room, not much recline. There are four seats across the row in Business versus six across in economy .  Surprisingly the seat backs did not have a video screen for entertainment.  For a 3 hour flight, a bit of TV or movie would have been a nice option. I did manage to use a bit of the free WIFI which was a plus.
The flight was late afternoon and there was a full meal service.  In Business, we got a paper menu to peruse, fancy!   I went for gnocchi pasta  and it was tasty.  There was crisp Ontario Riesling to wash it down,
Overall the flight was okay but I was looking forward to bigger and better things on my big flights over the Pacific.
Toronto Pearson Domestic Maple Leaf Lounge
I was at the lounge early in the morning before my Montreal flight, so there was a  bit of breakfast laid out and of course I hit up the espresso machine a few times.  The lounge is quite large, I think well over 200 seats, so usually a good chance of getting in, though I remember having to wait 10-15 minutes when I checked it out last year. No liquor option until after 11 AM, by which time I was out of there.
One good thing about the lounge was that there was a dedicated Air Canada agent that could deal with flight questions or changes .
Air Canada from Toronto to Montreal – Business Class
I would have rather not had this  little hop from YYZ to YUL but booking so last minute, my options were limited.  After my quick overnight in Toronto (thank you James for the good visit and couch surf), I got an early morning Air Canada email that my flight from Montreal to Tokyo had a substantial delay which I could see was going to arrive too late to make my connecting flight. Fortunately, as part of the Business class booking, I had access to Priority Check-In  and Priority Security which, in airport like Pearson, can save a huge whack of line-up time.
After a few minutes in the Check-In line, I got to an agent who was eager to help me when I told of the scheduling dilemma. He got on the phone with ticketing and a few minutes later had me switched to a later flight from Tokyo to Malaysia. He couldn't give me a boarding pass for this flight but I did have the flight details.  On with the mission!
This quick 75 minute flight to Montreal was on a 737 Max.  I think the leg room was  better than the Regina-Toronto flight.  Once again there are 4 seats across in Business with limited recline.
There was a breakfast offering. I did not find it appealing and elected to save my stomach for the lounge ahead (pro move there).
Montreal International Maple Leaf Lounge
I had two big blessings from my flight delay and this Montreal lounge was the first one. Boy did it rock!  On my original booking, I only had  about a one hour stopover in Montreal between flights, which wouldn't give me a sniff of lounge action. With the delay, I now had a leisurely three to four hours to kick back.  Let the festivities begin!
This welcoming lounge is well decorated with a large, impressive  bar as it's focal point.  On my flights and at this bar there was reference to Air Canada's award-winning sommelier, Véronique Rivest.  I must say, she has put together a great selection of wines.   I enjoyed every wine I tried over the various flights and lounges.
There was a good variety of food as well, hot and cold.  The time flew by pretty quickly with all the food and drinks to sample.  About three good hours in, I made one last pass by the live cooking station and to my delight, I saw they had Montreal smoked meat sandwiches on offer.  I was all over that, what a great send-off from Canada.
Air Canada from Montreal to Tokyo – Business Class
Welcome to the main event, this 13.5 hour flight in Air Canada Business class on a Boeing 777.  Normally I would aim to fly the shorter route from Vancouver to Asia but in Business class, why not take a few more hours to soak it all in?
The Business class seating is setup in a reverse herring bone pattern which is a favourite of mine because it offers added privacy.  The seats are comfy, lie-flat pods with four across the row versus 10 seats across in economy.  In the lie-flat mode, there was enough room for my legs in the foot well that I could move around comfortably. I must say, my seat 10A looked rather impressive.
The service got off to good start with lead flight attendant Jennifer introducing herself.  I was soon sipping on a glass of champagne, ready for take off.  That's living!  There was a lovely, extensive menu to choose from.
Dinner was served not long after take off. I started with prawn cocktail.
For the main course, there were several interesting options but the beef short ribs were  calling my name. I have no regrets on this choice, I would say it is the best meal I have had airborne.
After dinner was cleared it was time  for the dessert and the cheese course, with a variety of cheeses.  This was great for me as I am fairly cheese starved when in Asia.
After dinner and drinks, it was time to get some rest. The cabin is fairly quiet up front but even better with the noise cancelling headphones on, watching a bit of TV/movies.  I must have gotten a fair bit of sleep because other than bathroom breaks, I don't recall much between dinner and breakfast (served an hour or two before landing).  The lie-flat seat was very good to me.
For breakfast I had the parsley omelet which was okay but I regret not ordering the noodles instead.
As a side note, I had flown Air Canada long-haul, Business class back when things were starting to open up after C19 and it was okay but I was not overly impressed(read it here).  This time, with the full menu and full service restored, I have a renewed faith in Air Canada's long-haul Business class.
Malaysia Airlines from Tokyo to Kuala Lumpur – Business Class
My original booking had me on the Japanese airline ANA for this flight in economy class.  My second big blessing of the flight delay was that my revised itinerary had me switched to Malaysia Airlines….in Business class!  I have flown on ANA airlines a couple of times and really love them but I would take Malaysia Airlines Business class,  with its lie-flat seat, 10 times out  of 10 over ANA's economy, especially on this 6.5 hour late-night flight.
It was a bit of an act once I got on the ground in Tokyo.  There was an Air Canada agent with a clip board in hand as we entered the airport.  I was hoping she might have a boarding pass for me but all she gave was the flight I was to connect to and the gate number.  I think she said there would be a transfer desk where I could get the boarding pass but I didn't see  anything like that open as I navigated my way though the international transfers area.  Time was of the essence as there was little more than an hour to boarding and I had to make my way by shuttle bus to another terminal to get to the departure gate. Once I found the shuttle bus area, it was a nerve-wracking wait of about 25 minutes for that shuttle bus to arrive. There was another Canadian guy in a similar situation so that helped ease the tension a bit. Fortunately, I did not have checked luggage so that was one less thing to worry about.
Once we finally got to the right terminal, I hastily made my way to the departure gate. It was about 15 minutes before boarding time and luckily the agent there was able to issue me the precious boarding pass just in time.
The flight was on an Airbus A350 with kind of an odd seat configuration in the business cabin.  The rows had a mix of 4 and 5 seats across. The seats are forward  facing pods with a lie flat bed and include loads of storage.  For me, the foot well was too narrow to be really comfortable in the lie-flat position.  I went semi-reclined and could move my legs freely and was able to get some sleep like this. As you can see, I was quite pleased with my unexpected Business class accommodation for the night. The service was good and attentive.
Air Asia from Kuala Lumpur to Luang Prabang – Economy
I arrived in Kuala Lumpur in the early morning hours, safe and sound.  Kuala Lumpur is a great hub for SE Asia with its central location and abundance of budget airlines. Once I cleared customs, I made my way to the budget terminal, KLIA2.   There was  enough time for a lounge visit before departure. I sure would have liked a shower at this point but alas, this Plaza Premium lounge did not have a shower. I was able to get in a change of clothes and rinsed the pits.
The  first Air Asia flight was from KL to Don Mueang, the budget airport in Bangkok.  This was about a two hour flight.  It surely was a different experience from the Business class flights I just had, what with the squeezy seats and lack of service but for a two hour flight, I could do that standing on my head. Luckily, I opted for extra carryon luggage (14 Kgs instead of the usual 7 Kgs) as they did indeed weigh my bag leaving KL.
There was about a three hour layover in Bangkok, so you guessed it, I hit up another lounge.  The lounge visits on this economy portion of the trip were courtesy of a credit card I have with a few lounge visits as a benefit.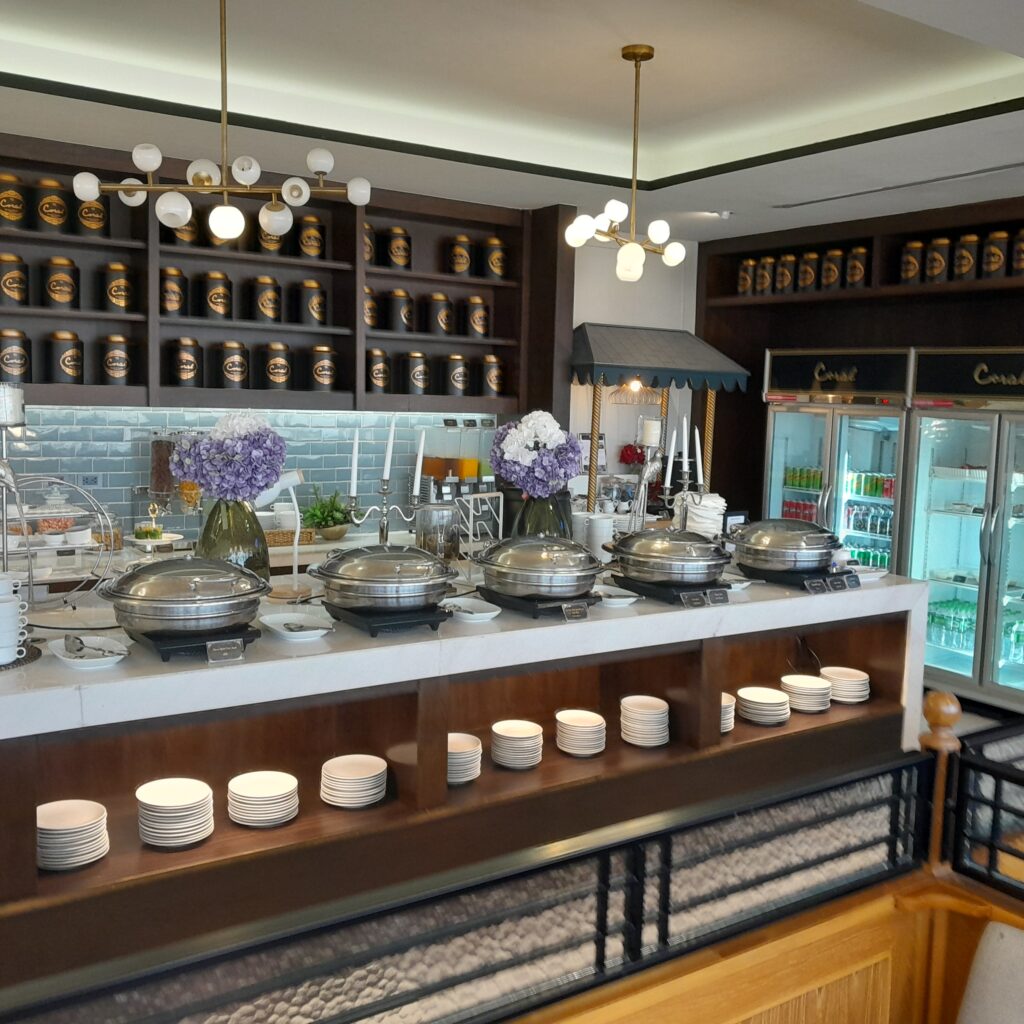 The next and final flight of the journey was a quick 1.5 hour jaunt  from Bangkok to Luang Prabang, Laos.  At long last, I had made it, only a little worse for wear.
Cost
I booked  the flights from Regina to Kuala Lumpur on Aeroplan points. I made the booking fairly last minute, only about a week before departure.  These days it seems you have to either book close to a year in advance or last minute like this to get a good booking. The cost was 85,000 points plus $121 for airport fees, etc.  All fours legs of the trip were in Business class including the 13.5 hour flight over the Pacific.  At the time of booking, the cash price for the one-way economy fare on this route was $2148, Business class was about $8000. I like $121 out of pocket a lot better!
For the Air Asia portion of the journey from Kuala Lumpur to Luang Prabang, the cost was  535 MYR, which came out to about $160 CAD on my credit card. The beautiful thing about this charge was that I was able to redeem about 12,000 CIBC Aventura  points for the full cost of the flight. These points took me almost zero effort to acquire It was no where near the value I got on Business class booking above but I was super-pumped all the same.
So the grand total for the trip:  85,000 Aeroplan points, 12,000 CIBC Aventura points and $121 CAD.
Conclusion
I have made the trip back and forth between Canada and Asia many a time now and it has always been an interesting  adventure with some twists and turns along the way.  This trip was no exception and I would say was my best ever, thanks in large part to most of it being in Business class.
The trip included six flights  spanning 12,580 miles and took about  2.5 days including the layovers. The flight from Montreal to Tokyo clocks in at 13.5 hours, which I do believe is my longest flight ever. Even though it was delayed, my hats off to  Air Canada, they did a great job on this flight.
I really enjoyed this trip. I keep learning new things to enhance my travels and am happy to share with you. I hope it will inspire you to your own epic adventures.