Here are highlights of my trip to the Franciacorta wine region this spring.  This is certainly a lesser-known wine region of Italy.  After taking in the gorgeous scenery and delectable wine I could understand why the Italians would want to keep this area a secret.  The Franciacorta wine process is identical to the champagne process and produces a  crisp, bubbly wine, especially refreshing if the sun is beating down like it was on me.  Sadly you are not likely to find this wine outside of Italy, however, it is available at most bars and restaurants in the area. Ideally, try tasting Franciacorta in one it's many lovely vineyards.

Wine Tasting: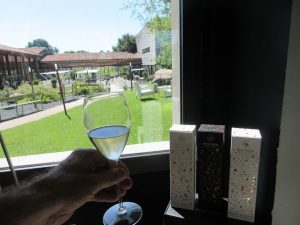 Bersi Serlini – I wanted to go for the guided vineyard tour and tasting but due to the train timing it did not work out.  It was okay as they let me have an impromptu tasting in their beautiful showroom.  I tasted three of their Franciacorta's with Silvia guiding me, answering any questions I had.  She also bought me a big plate of bread, salami, cheese and olives to go with it, yummy.  The tasting cost €18 and I also bought a half bottle of their signature Franciacorta for €10, It is located amongst sprawling vineyards about 1.5 kms from Provaglio-Timoline train station (which surprisingly has a fun looking wine bar of its own).
Barone Pizzini– This place was completely useless.  When I stopped in and asked for a tour/tasting, the best they could do was offer a tour in 5 days, long after I would be gone. They also told me of a bar about 4 kms away where I could taste the Franciacorta wine, even though Bersi Serlini had tastings right across the road.

Other  Things To Do:
Tourism Office Iseo– First chance you get, stop in at the tourism office in Iseo.  The lady there was super helpful and spent a good 20 minutes with me, sharing a load of good information including deciphering the tricky regional train schedule.  Located on the lakefront, close to the ferry terminal.
Monte Isola -This is the large island in Lake Iseo.  You can get the ferry there from Iseo, which in itself is a fun ride and a good way to see the lake, the cost is  €7 return.  Once you land on the island you can rent a bicycle or walk around the island as I did.  There are no cars, only a few buses and scooters.  There are charming villages every few kms on the island.  You are never far from something good to eat/drink. At the top is the Sanctuary with amazing panoramic views of the entire lake.
Torrbiere Nature Reserve-  This park has a series of adjoining ponds with berms providing trails for a pleasant nature walk or bike ride

Eating:
Iseo Market-on Friday morning there was a large market with plenty of food right after you get off the train. I got some grilled pork, very good and only €3.
Bar Tina-  This simple place is on the far side of Monte Isola by the fancier Restaurante El Torro.  It serves mainly pizza and sandwiches, I ordered the lasagna.  Turned out to be one of the best I ever had, and for only €7.50
Pizzaria al Castello– In Paderno, I ate here one Saturday evening. They were very busy but managed to find me a spot.  I had risotto and grilled steak, it was alright

Sleeping:

Vicolo del Nido–  This is a wonderful bed and breakfast in the quaint village of Paderno which lies in the heart of the Franciacorta wine district. .  The room I had was outstanding, decorated tastefully with all the mod-cons.  I was in the standalone bungalow, I believe the rest of the rooms are in the main house.  I am not much of a breakfast guy but the host Matiangela does a great job of it, and with the cost of meals in Italy, it was much appreciated.  I paid about $65 CDN/night single on Airbnb, I believe the double rate is noticeably higher. It is located about 10-15 minutes walk from the train station, very close to the town square.
La Terraazza Bed and Breakfast- Looks like a good alternative in Iseo, which is the heart of the action.

When To Go:
I went in early June and it couldn't have been better.  The weather was sunny and plenty warm.  I got really lucky as it was the wettest May on record there.  One lesson I learned the hard way is to do your best to visit the more popular tourist spots like Monte Isola on weekdays.  I went to Monte Isola on the weekend and the little train from Paderno to Iseo was standing room only whereas on the weekdays I almost had the train car to myself.  I  heard it gets quite hot around July and August.

Getting around:
Train– There is a small regional train service by Trenord. The scenic route winds through loads of vineyards, connecting the little villages between Brescia and Iseo.  There are limited runs to Paderno, less than 1 per hour.  When you get to the wee Paderno station there is a digital board that shows when the train in each direction is due to arrive. The fare is €2.20 to Iseo. You can pay the conductor on the train as there is no ticket machine at the Paderno station.  On the weekends when the train was overflowing with tourists, they didn't bother to collect the fare. Note the station is shown as Paderno Fnm online. 
Bike-In Iseo there is a bike rental shop and you can also rent a bike as soon as you get off the boat at Monte Isola which i s car-free and should be ideal for cycling.
Walk/Hike– I did a lot of walking and it is really pleasant.  I did break down and take the bus down from the peak of Monte Isola, it was a welcome relief after 2 or 3 hours of hiking to the top.

Getting There/Away
There– Got there by train, first was Trenitalia from Bologna to Brescia, duration was 2 hours 16 minutes, price €14.80. Once you are at Brescia you need to take the Trenord regional train to Paderno Fnm which is a bit more confusing. I ended up on a train that went direct all the way to Iseo.  It was no big deal, I got off at Iseo and took the regional train from there back in the Brescia direction, this train stopped at all the little towns like Paderno, cost €2.20
Away- Left Paderno on the regional train back to Brescia, then caught the Trenitalia train to Bergamo, Duration 1 hour, cost 
€4.80.  Spent the night by Bergamo, then caught a Ryanair flight the next morning to Paris (BVA), which cost  $44.05 CDN with priority boarding (10 kg carry-on)
More pics:
You can see my online photo album here.